"CustomAnim" automatically generates 3DCG animation when you enter a word
November 13, 2019
Bemmu Sepponen, who runs Candy Japan, a candy distribution service for overseas users who like Japanese sweets, has created and released CustomAnim, a program that automatically generates movies that shape words entered by 3DCG candy when you type words. CustomAnim – Instant Custom Animation That Spells Any Word You wanthttps://customanim.com/
CustomAnim is very easy to use, access the above URL and enter the characters you want to represent in the movie in the text box. This time, enter "GIGAZINE" and click "Preview".
The last frame of the movie that is output at the bottom of the page is displayed. Click Start render in the red frame to start rendering the movie.
It is said that the GPU rendering server is used to render the movie.
According to Sepponen, rendering and encoding the movie initially took more than two minutes, but by rendering with GPU and encoding with H.264, In the end, rendering and encoding time was reduced to about 3 seconds.
Moved H.264 encoding to GPU as well -> 5x improvement in encoding speed. Total render & encode time: 2.9 seconds. This Will Do.
After rendering and encoding the movie, you can download the movie from the download button in the red frame.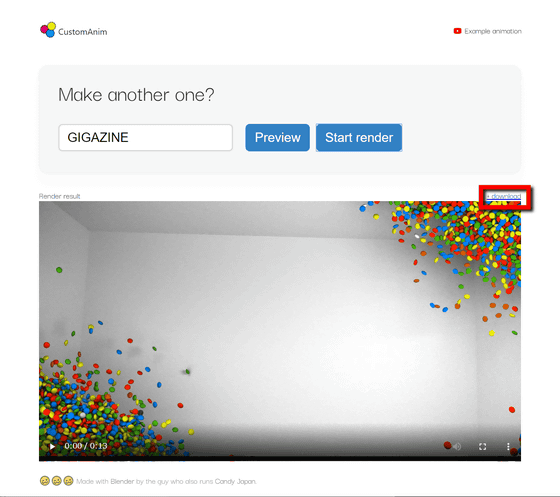 After you create a movie, you can watch it below. Create a "GIGAZINE" movie with "CustomAnim" that automatically generates videos when you enter a word – YouTube, CustomAnim uses Blender, an open source 3DCG modeling software.