Tesla's Cybertruck is now available as a custom service like an iPhone, "This is not a joke"
November 27, 2019
Tesla CEO Elon Musk unveiled Cybertruck, an electric pickup truck designed to escape the sci-fi world on November 22, 2019. The design of Cybertruck, which has no headlights or side mirrors, is a hot topic, but skins have already been developed to customize Cybertruck by skin manufacturers.
The Cybertruck announced by Tesla is like this. It is a unique look far from the design standard of modern cars.
The skin maker dbrand, which is developing skins that will allow you to customize iPhones, smartphones, MacBooks, etc., is "This is not a joke." I posted on Twitter about Cybertruck's custom skins, along with the words "this is not a joke." The attached photo shows a cybertruck custom in bright red.
This is not a joke.https://t.co/b2LXy9HZ5 pic.twitter.com/5q4wcLJwXUN
— dbrand (@dbrand)
The following pages were added to the dbrand website: Tesla Cybertruck Skins, Wraps & Covers dbrandhttps://dbrand.com/shop/tesla-cybertruck-skins , menu includes "hood", "bumper", "front door", "rear door", "side panel", "tailgate", "prism"……
It is possible to customize each part. You can choose from more than 30 kinds of various skins, such as camouflage pattern, wood grain tone, leather tone.
You can design the original Cybertruck. Cracks that entered the window at the announcement event can also be modified.
The page actually has a "Preorder" button and a price display, and it seems that custom instead of jokes, as was in the tweet.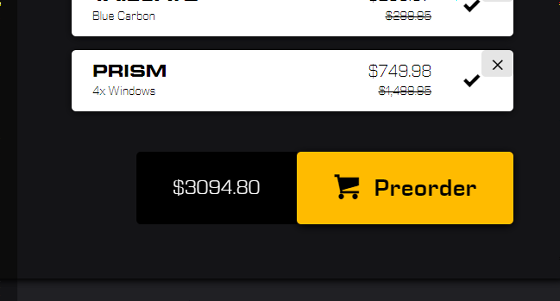 At the time of article creation, it is not clear how Cybertruck's custom skins differ from custom skins on the iPhone and how durable they are.